Product Description
Regenepure Precision 5% Minoxidil Spray (2oz.) is a listed product under U.S. FDA with NDC # 71290-813-02
Minoxidil  is an FDA-approved ingredient for hair loss in men caused by androgenic alopecia. This minoxidil treatment for men is the first pure minoxidil formula that comes with a fine mist spray applicator to provide convenience and a higher level of absorption than all other minoxidil products on the market today.
Minoxidil is clinically proven to halt the progression of thinning and encourage new growth, but success with treatment relies upon your minoxidil hair loss formula actually reaching your hair follicles. Foam versions of minoxidil are applied to the hair, where much of the formulas linger even after the product is massaged into the scalp. This means that only a small fraction of the nourishing minoxidil in the formula ever penetrates the skin, so that it can promote hair growth and treat symptoms of male pattern baldness.
With RegenePure Precision Minoxidil Spray, you can position the fine mist applicator spray to precisely deliver the minoxidil 5% formula right to the scalp. Consequently, the formula provides more available minoxidil to actually make a difference in the fight against hair loss. Plus, the minoxidil spray formula dries quickly, making the drips common with dropper formulas a thing of the past.
Why spend time administering tiny drops of minoxidil to the scalp or wasting product on hair strands instead of targeting your hair follicles? With RegenePure Precision Minoxidil Spray, you'll enjoy a more precise application in far less time than it takes to require any other minoxidil formula. Discover the better way to use minoxidil 5% today and get on the path to *re-growing your hair and regaining your self-confidence.
Summary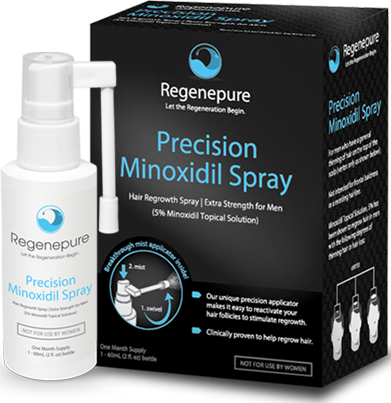 Author Rating










Brand Name
Product Name
Regenepure Minoxidil Precision Spray
Price
Product Availability